Why Become A Consultant?
Sound Therapy SYNERGY is our practitioner only brand, which is sold exclusively by Qualified Sound Therapy SYNERGY Consultants.
Help your clients
Becoming a Sound Therapy SYNERGY consultant will enhance your practice. You will achieve faster and more successful outcomes in addressing a wide range of ear related and neurologically related conditions. Sound Therapy provides a unique opportunity to help your clients with a safe, effective, drug-free solution which is portable, affordable and easy to do.
Earn additional income
You will receive discounts of up to 35% on products you order for your clients, giving you an additional source of income for your practice.
Practitioner training
As a Sound Therapy SYNERGY Consultant, you can easily integrate Sound Therapy into your practice using our effective educational and marketing tools. We provide a time-efficient self-study training course, or live groups on request.
Help with your marketing
You will have access to many resources on our Sound Therapy SYNERGY web site including your own web listing, our Listener Support Programs for your clients, and referrals from online assessments. With just a few clicks you will have a professional web presence to support your Sound Therapy SYNERGY practice.
If you would like to receive further information about becoming a SYNERGY Consultant, complete the SYNERGY Consultant information request form
Read more now about Why Become a Sound Therapy SYNERGY Consultant
How our discount levels work
Buy in bulk and increase your margin
| | | Total Investment |
| --- | --- | --- |
| X1 Listening Foundation Sound Therapy Program* | 15% discount | $594.15 |
| X3 Listening Foundation Sound Therapy Programs | 20% discount | $1,437.60 |
| X5 Listening Foundation Sound Therapy Programs | 25% discount | $2,246.25 |
| X10 Listening Foundation Sound Therapy Programs | 30% discount | $4,193.00 |
| X15 Listening Foundation Sound Therapy Programs | 35% discount | $5,840.00 |
* 20% discount if purchased at time of joining
Become a Sound Therapy
SYNERGY

Consultant now
Simply take these two easy steps
Agree to our Consultant Contract
Purchase the Synergy Business Pack
Or for more assistance, please do not hesitate to contact our helpful customer service team at SYNERGY@mysoundtherapy.com or call 1300 557 796 (Australia) or 1800 323 9956 (USA) or 0800 080 133 New Zealand, or International dial +612 42565144 (Sydney, Australia time). Working hours Monday – Friday 9:00 am To 5:00 pm (GMT +10) Sydney Australia time.
We look forward to welcoming you to the SYNERGY network and developing a mutually beneficial working relationship.
The
SYNERGY

Business Pack
This comprehensive starter pack provides you with the necessary information to become familiar with the product and its potential, and to learn the basics of how your Synergy Consultancy will operate
This pack will give you:
One each of Rafaele Joudry's books on Sound Therapy so you will have a full understanding of the program and its many applications
A DVD including animations, clinical explanation and listener first hand accounts of the program
Brochures and information sheets on 16 of the conditions treated by Sound Therapy
Access to our library of online marketing resources including templates for ads, banners and brochures, images, contracts, presentations, press releases and more…
Our self-study clinical training program for practitioners including video course and 100+ page online practitioners' manual.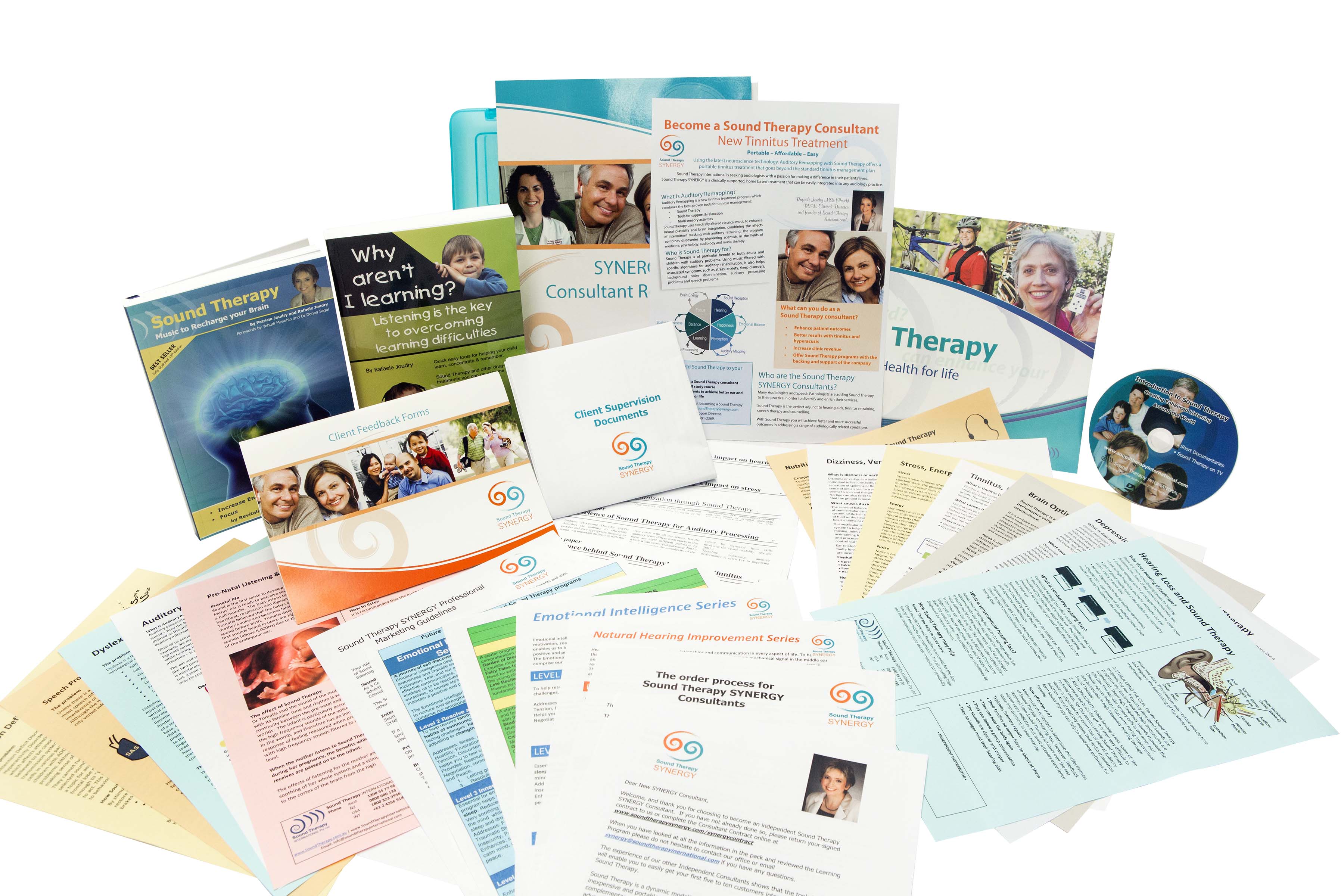 SYNERGY

Business Pack Includes:
Item
Value
Book – Sound Therapy: Music to Recharge Your Brain
24.95
Book – Triumph over Tinnitus eBOOK only
24.95
Book – Why Aren't I Learning
24.95
DVD – An Introduction to Sound Therapy
19.95
Colour brochures for adults and children's programs
25.00
Nutritional information resources
8.00
White papers & clinical information documents
6.00
Online marketing resources library
99.00
Discounted Price for Pack
$89.00 (value $232.80)
Plus
Practitioner Training Program Online interactive practitioner training
$135.00
Total Value
$367.80
Discounted price for pack
$299.00 (GST included)
Shipping
Express Post, within Australia/NZ,AUD $22.00 (GST included).
USA Canada US $22.00, Other International Postage Costs will vary.
Or choose the Virtual pack for $199.00
(Same contents – all materials delivered online) No shipping charge
You may also like these additional products to help you kick start your business
| | |
| --- | --- |
| Quick Start Sales Pack 6 books and 5 DVDs and referring practitioner pack | $135.00 |
| Listening Foundation Sound Therapy Program 15% discount (normal price) | $594.15 |
| Listening Foundation Sound Therapy Program 20% discount (only with first order) | $559.20 |
| X3 Listening Foundation Programs at 20% discount | $1677.60 |
| X5 Listening Foundation Programs at 25% discount | $2621.25 |