7.2.1 Children's and Family Programs
How do I know which program to choose for my child?

It depends on the age of the child and which stories they would like.
Children up to age seven can use the Younger Children's Program. Children from seven to about thirteen can use the Older Children's Program. If the adults in the family also want to use Sound Therapy, or there are several children using it the Family Program is the best option.
The Younger Children's Program comes on one player.
The Older Children's Program comes on one player.
The Family Program comes on three players, consisting of
One player for the Younger Children's
One player for the Older Children's and
One player for the Listening Foundation Program
This allows several family members to listen at once.
When the Family Program is purchased, an additional Bonus Album, "Aboriginal Stories", is added to the Younger Children's Program.
In our family we have an 8 year old and a 12 year old. Which program should we get?

This is the ideal age range for the Older Children's Program, or choose the Family Program.
The Older Children's program is ideal for this age group. It includes two music albums, Calming Music and Study Stimulator. It also includes Grimm's Fairy Tales and Native American Indian Stories. Indian
Stories is about ghosts and hunters and would appeal more to older boys. African Stories has a variety of shorter and longer stories which are quite thought provoking.
However, the Family Program is also a great option as the 8 year old would still enjoy most of the albums on the Younger Children's program.
Other possibilities are The Little Prince and Bible Stories, as add-on options.
The Little Prince is a short novel on two albums and is good for children who have longer concentration spans. It is a wonderful story which stimulates reasoning, imagination and creative thinking. Dr Tomatis recommended this book as being the most appropriate of any children's literature to be used for Sound Therapy.
The Bible Stories are from Catherine Marshall's Story Bible, and families can get this beautifully illustrated book and read along. Likewise with The Little Prince.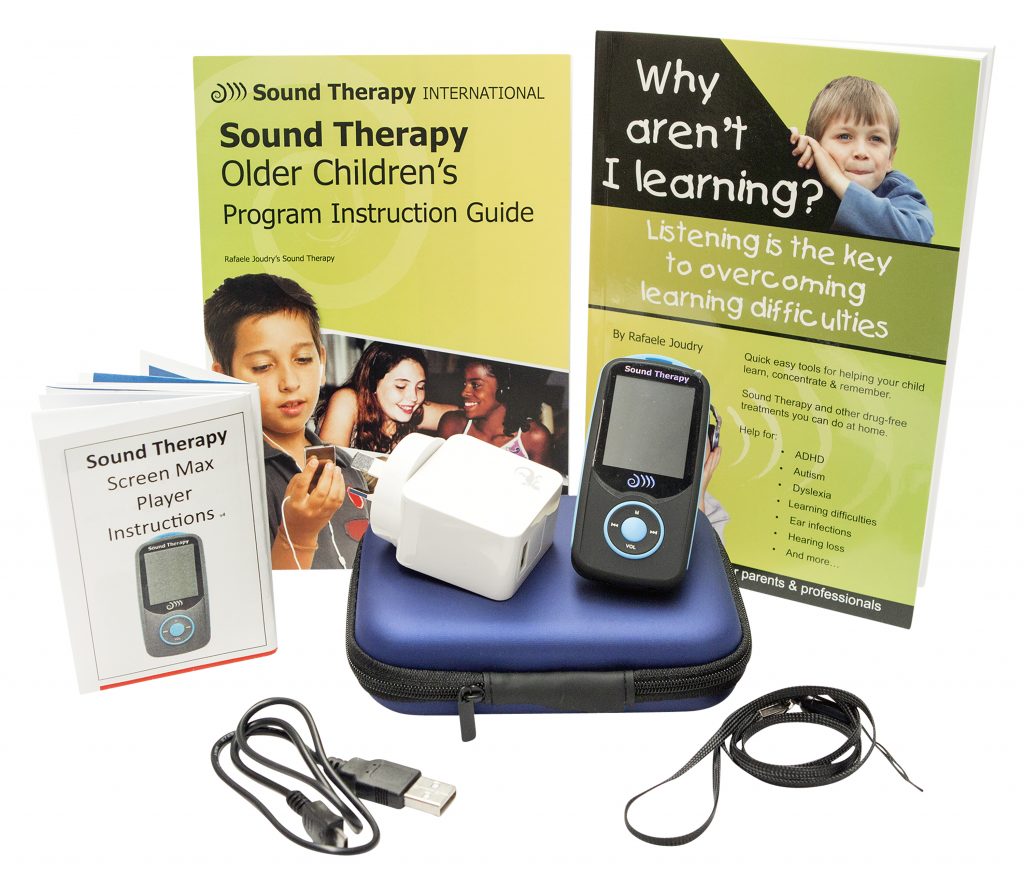 In our family we have a 5 year old and another on the way. Which program should we get?

Choose the Younger Children's program or the Family Program.
The Younger Children's program is ideal for this age group. It includes a music album called Garden of Dreams and two story albums. Fairy Tales for Younger Children and Let's Recite, read by Patricia Joudry.
The Family Program is also a good option so that the parents can listen to the music in the Listening Foundation Program.
The young child can also use the Listening Foundation Program, and later as the child gets older they will enjoy the Older Children's Program which comes as part of the Family Program.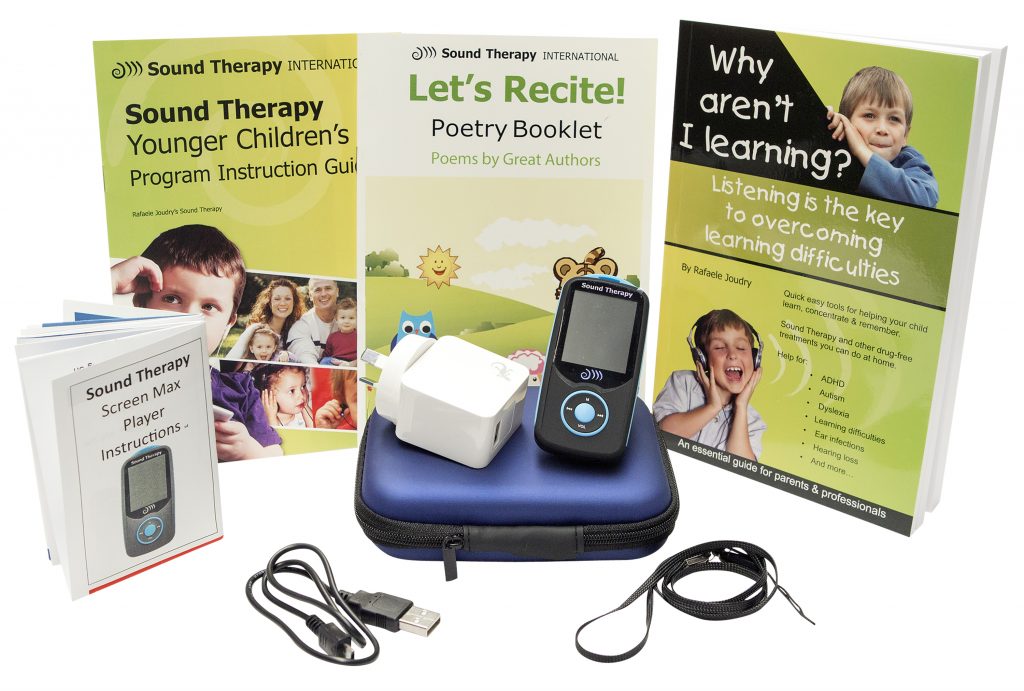 What type of headphones is suitable?

High quality, light weight headphones, such as the ones provided with Sound Therapy programs.
All Sound Therapy programs are supplied with light weight, high quality, headphones. We have selected these for their frequency response, durability and comfort.
It is important to always recommend that your clients use these high quality headphones with their program. They should not rely on the ones supplied with other devices, such as a phone, as these are not of the right quality and specifications to deliver the full benefits of Sound Therapy.
We recommend that you stock our range of headphones so you can readily offer some alternative selections to your clients. Occasionally they may want to try something different than the ones that come as part of the packages.
In some cases a client may already have a superior brand headphone, in which case they can use that one instead if they prefer.
The style of headphone is flexible, as long as it is a good quality brand which will produce optimum sound quality.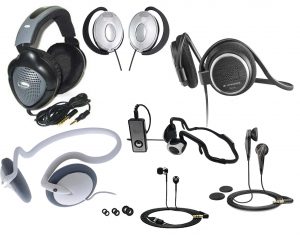 Sound delivered by bone conduction reaches the inner ear more directly and adds to the benefits of the program.
As a recent addition to our offerings, portable Sound Therapy now includes bone conduction.
Bone Conduction is offered for both adults and children.
Bone conduction listening is normally started one month after beginning the program.
After charging the Bone Conduction headphone, it plugs into the jack on the player.
A double adapter is provided for the option to listen to bone and air conduction at the same time.
Bone conduction is used for half an hour per day and gradually increased to 90 mins.
The volume should be kept low, or at the same level as air conduction so both can be heard.
Bone Conduction activates different neural pathways, thus increasing the beneficial effects of Sound Therapy.
The benefits include more embodied listening, better coordination, better social engagement and sensory processing.
Listeners will receive a video coaching program with their bone conduction when you enter them into the Listener Support Program form on the SYNERGY website.
Can I still get the program on tape or CD?

No, the program is now only available on our purpose built players.
No the program is now only delivered on our dedicated mini audio players.
Customers who previously bought the program on a different medium will be delighted with the much greater portability and convenience when they upgrade to the new player. They will also notice that the music now sounds cleaner with less interference than on the older programs, due to recent remastering with the latest technology.
What happens when the battery dies in my Sound Therapy player?

Your player can be replaced for a minimal charge.
After the 12 month warranty has expired, if the player stops functioning it will be replaced by Sound Therapy International for a very modest replacement fee which is less than if you had been using normal batteries. The client will not be required to pay the full fee for the program when replacing or upgrading the player.
My player isn't working any more – what should I do?

As a Sound Therapy Synergy Consultant, you will go through trouble shooting steps with your client using our instruction sheet. If it proves to be faulty, contact head office for a return authorization number.
As a Consultant, you need to become familiar with basic level trouble shooting to help your client.
Using the program yourself will mean you become familiar with the basic working and trouble shooting.
Use the instruction sheet packaged with the player. Also refer to our trouble shooting tips online.
If these steps don't work, the Consultant should contact Sound Therapy International to discuss replacement or further testing.
If it seems clear that an equipment fault exists, Sound Therapy International will issue a Return Authorisation number (RA number) for the return of the player.
In order to consolidate your relationship with your customer we encourage you to be the point of contact for your customer in dealing with returns.